Disponibilità per Transfer in pullman da e per i campi da gioco, or if there is the need for housing for rugby players, hotel stays or b&b, inviate le vostre richieste ad agenzia@baldoinviaggi.it
 
TREVISO AWAITS!!!
http://www.benettonrugby.it/121_0/trofeo_topolino.ashx
https://www.facebook.com/BenettonRugbyTreviso
Trofeo Topolino-Minirugby a Treviso
14/15 May 2016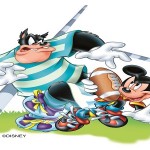 Prepare for the most beautiful sporting event for children here in Treviso!!
Nato come Torneo "Città di Treviso" in 1976 and who later became the Trofeo Topolino 1991, questo evento ha assunto una rilevanza, in terms of participation and competition level, unparalleled in the panorama Italian rugby.