ROME – Papa Francesco e la Porta Santa – 01/03 October 2016
OUTLINE OF THE PROGRAM
da sabato 01/10 a lunedì 03/10
Saturday 1 October 2016
Hours 07.30 starting with coach G.T. alla volta di COLLEVALENZA, soste intermedie e pranzo libero in corso di viaggio, arrival in the early afternoon: visita al Santuario ed al Pozzo. Di seguito proseguimento per ROMA, sistemazione in serata in hotel 3 location, in camere doppie con servizi privati. Dinner and overnight.
 
Sunday 2 October 2016
Prima colazione in hotel e partenza per Piazza San Pietro per assistere alla Messa col Santo Padre e all'Angelus. Pranzo e ritrovo verso le ore 15.00 per una visita con guida della Capitale: dal Colosseo, known as the Flavian Amphitheatre, Arch of Constantine, al Foro romano…
In serata cena e pernottamento in albergo.
 
Monday 3 October 2016
After breakfast at the hotel, Pellegrinaggio alla Porta Santa (da prenotare l'orario), tempo a disposizione per visite libere in città. Pranzo e partenza per il rientro nel primo pomeriggio, intermediate stops during the journey and arrival in the evening.
Quota individuale di partecipazione in camera doppia € 270,00 with at least 40 participants
Quota individuale di partecipazione in camera doppia € 260,00 with at least 50 participants.
Supplemento per stanza singola per le due notti € 50,00
 
The fee includes: coaches available for the entire duration of the trip, tolls and parking, guida locale a Roma, hotel accommodation 3 stelle in camere doppie con servizi privati con trattamento di cena, pernottamento e prima colazione, 2 lunches, tassa di soggiorno, Medical and luggage insurance. The fee does not include: lunch on the first day, beverages, any inputs, personal extras, tutto quanto non indicato ne "la quota comprende".
Reservation by 10 July 2016 con acconto di € 120,00 – il saldo 10 days of departure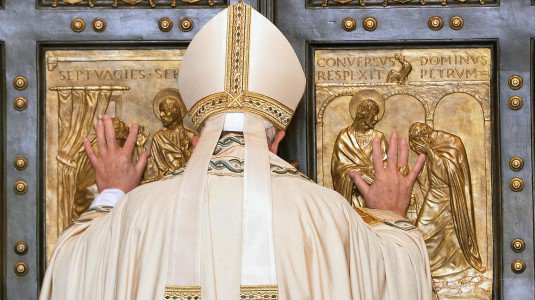 http://www.giubileopapafrancesco.it/biglietti-porta-santa-grandi-eventi-giubileo