#Promoflash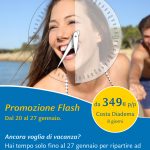 Prezzi vantaggiosi prenotando dal 20 to the 27 January 2017
http://www.costacrociere.it/B2C/I/Pages/default.aspx
#entrainagenzia
Tariffe "Promozione Flash" disponibili esclusivamente – Costa Crociere
from 20 to the 27 January 2017 per le crociere sopra riportate in cabina
interna CLASSIC, with port charges and entry fee included. Voli inclusi
dove indicato. Sono escluse: le BEVANDE, l'assicurazione e le quote di servizio (10€ p/giorno p/adulto).
Il Ragazzo fino a 18 anni non compiuti, cabin with two adults,
paga eventuali voli, le tasse portuali, la quota d'iscrizione, l'assicurazione e le quote di servizio (5€ p/giorno).
The promotion is not retroactive and can not be combined with other discounts and / or promotional fares. Non dà diritto ad accumulare punti Costa Club. E' valida per le cabine Classic con occupazione doppia o singola; cabine triple e quadruple su richiesta. E' richiesta la conferma immediata. La penale in caso di annullamento è del 100%. Offerta soggetta a disponibilità limitata (10 cabine per partenza) e da verificare Costaextra.it o contattando il Contact Center. Documents required: fare riferimento al catalogo crociere 2016/2018.