Saturday 8 April 2017
M O D E N A la città e le acetaie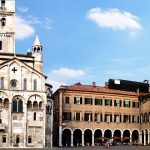 General Program
Hours 07.30 meeting with the group at the Forum Boarium of Treviso, partenza con il pullman per Modena, intermediate stops and arrival for hours 10.30.
Visita di una vicina Acetaia, dove oltre a conoscere la lavorazione che porta al famoso aceto balsamico, si degustano i prodotti locali.
Trasferimento nel primo pomeriggio in città ed incontro con guida locale per la visita: dalla bellissima Piazza Grande dove si erge il Duomo con la sua testimonianza romanica, alla Fontana di Largo Garibaldi per terminare con la Ghirlandina.
Tempo a disposizione per una passeggiata libera e ritrovo alle ore 17.30 to return to Treviso, intermediate stops during the journey and arrival scheduled at 20.00 about
Individual participation, minimum 45 people € 50,00
Individual participation, minimum 30 people € 55,00
The fee includes: Pullman a disposizione per la giornata, Local Guide, visita acetaia con degustazione di prodotti tipici (lunch). The fee does not include: Gratuities, any inputs, tutto quanto non specificato nella quota comprende.
Reservation by 10 April 2016 with payment of the fee.
 
http://www.emiliaromagnaturismo.it/it/localita/modena-mo/scheda?ID=28