LA CITTA

'

DI MILANO e l'arte


27 April 2017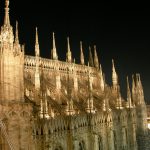 General Program
Hours 7.00 participants gather in the parking lot of the Lords Rugby Stadium Monigo (TV) e partenza alla volta di Milano con pullman G.T. – autostrada via – sosta lungo il percorso ed arrivo a destinazione per le ore 10.30 about.
Incontro con guida locale per una panoramica della città e dei suoi più importanti monumenti: the Castello Sforzesco, at the Teatro della Scala to the Duomo.
Free lunch and free time in the afternoon to personal insights.
Opportunity to visit the exhibition Manet at Palazzo Reale, It is a major exhibition, through more than 50 masterpieces by Manet, Renoir, Degas and other masters of the Paris of the late nineteenth century, It illustrates the time when the French capital looks to modernity innovating their art and culture.
Meeting at 17.30 for the return to Treviso and arrival scheduled at 21.00.
Quota di partecipazione €    40,00 with at least 45 participants
Quota di partecipazione € 45,00 con almeno 30 participants
The fee includes: coaches with driver for the day, Local Guide. The fee does not include: lunch, extra di carattere personale, any inputs, tutto quanto non specificato ne " the price includes ". Shows to book.
Reservations by 15 March 2017 with payment of the fee. Scope of the program 31.10.2017
https://www.facebook.com/BaldoinViaggi/